DogGone Good Martingale Collars
DogGone No More...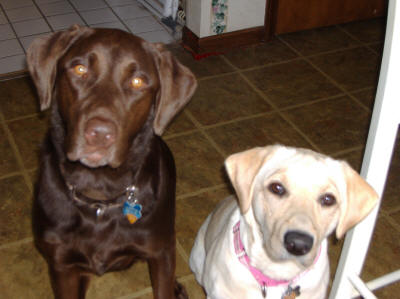 My Pups - Mr Tobi & Miss Lola
Welcome
I would like to welcome you to my website - DogGone Good Martingale Collars. I am sure you love your 4-Legged friends just as much as I do, otherwise you wouldn't be here viewing my site. I truly believe that Martingale Collars are the best collars around. They are very comfortable, not tight fitting on our pups. Most importantly they can't slip or back out of their collar. Therefore DogGone No More! All of my collars are designed and made by myself. They are made of high quality polypropylene or nylon webbing and strong metal (Nickel-Plated) hardware. Decorative ribbon is sewn on the webbing and all the collar stress points are highly reinforced. My ribbon is either Grosgrain, Jacquard, Polyester or Satin and hand chosen from a variety of sources. That being said, I can not always guarantee that a ribbon that you might see will always be available. Your dog may truly have a one of a kind custom collar!
Thank you for visiting,
Nancy